Product Description
Tungsten-Copper Alloy Rod, Wcu Round Bar, Wolfram Copper Tungsten Rod for Electrodes
WCu alloy is the composite of Tungsten and Copper, which own the excellent performances of Tungsten and Copper, such as heat-resistant, ablate-resistant, high-intensity, excellent thermal and electrical conductivity. WCu alloy is easy to be machined. WCu alloy is used widely in such industries as engine, electrical power, electron, metallurgy, spaceflight and aviation.
Tungsten-Copper Alloy Rod can be composed of varying ratios of copper and tungsten, ranging from WCu 50/50 to WCu 90/10. Tungsten copper rods 75/25, 80/20 and 90/10 have a relatively high melting point, strength and a low thermal expansion. On the other hand, tungsten copper rods 50/50, 60/40 and 70/30 present a high thermal and electrical conductivity and high machinability.
XINXIANG FANMETAL TECH CO., LTD is a recognized manufacturer and supplier of high quality tungsten copper rods. We are now capable of producign tungsten copper rods with a range of diameter from 0.029 inches to 5.0 inches or more.
Tungsten-Copper Alloy Rod Picture: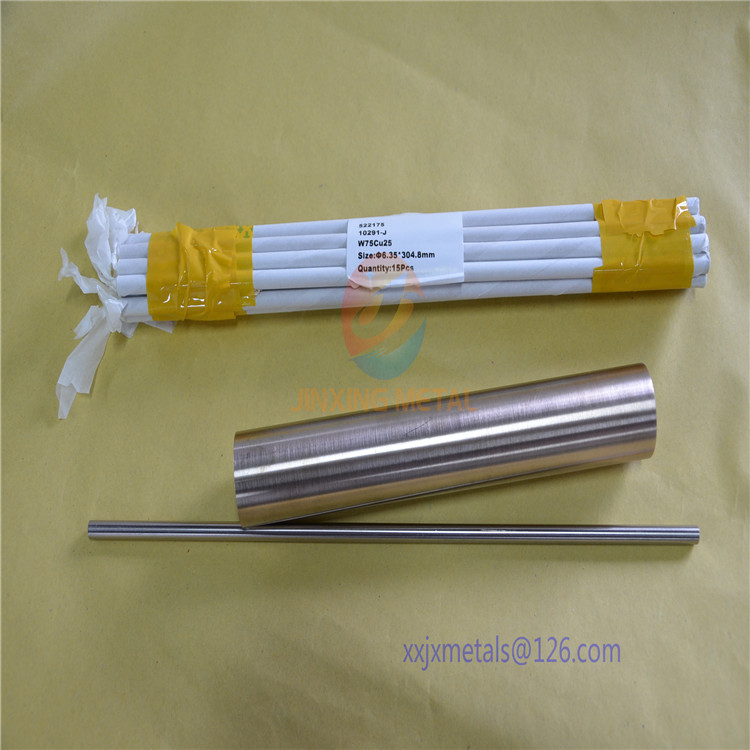 Performance and Application:
Tungsten-copper alloy has a wide range of applications, most of which are used in aerospace, aviation, electronics, power, metallurgy, machinery, sports equipment and other industries. Secondly, it is also used to manufacture high temperature components such as contacts of arc ablation resistant high voltage electrical switch, throat lining of rocket nozzle, tail rudder, etc. It is also used for electrodes, high temperature dies and other occasions requiring conductive and thermal conductivity and high temperature use.
Please leave your information to get the latest quotation and product catalogue!